How to Carry Out Daily Maintenance on Wave Soldering Machine
From:    Author:Wave Soldering Machine    Publish time:2019-09-02 15:53    Clicks:0
How to Carry Out Daily Maintenance on Wave Soldering Machine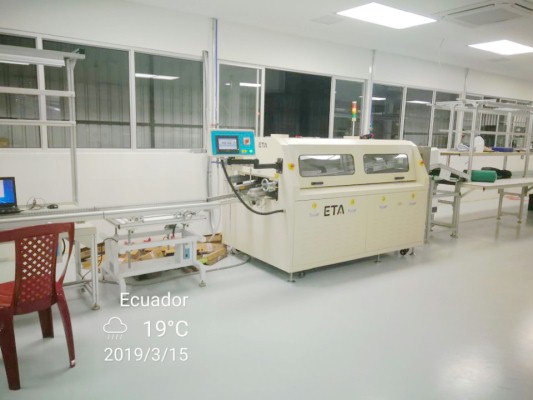 I believe many people in the wave soldering reflow industry know that it is very important for the maintenance of equipment. He can directly affect the performance of wave soldering, and the quality maintenance can greatly improve the service life of wave soldering. People will ask, how do we carry out daily maintenance of wave soldering? I believe that I have read this article below and will definitely help with the maintenance of wave soldering. ETA is mainly introduced from four aspects, namely: wave soldering heat pipe part, wave soldering electric part, wave soldering mechanical part, wave soldering spray part.
Step one, wave soldering machine heat part maintenance
We all know that when the equipment is running, there will be occasions such as uneven heating, aging of the heating tube, and breakage. This is because we do not have regular maintenance of the heating tube, so the equipment can be operated and used normally. , remember, it is necessary to carry out regular maintenance of the hot part.
Step 2, wave soldering machine electrical part maintenance
The maintenance of the electrical part has a direct impact on the operation of the whole equipment. I believe that this will be understood by the general public. If we are carelessly maintained, there will be a loss of electrical conductivity and poor contact failure, so this part of the maintenance is also very important. .
Step 3, maintenance of mechanical parts of wave soldering machine
The maintenance of the mechanical parts mainly includes mechanical parts such as machine table, gear teeth, chain, drive shaft, etc. If there is a problem in these positions, the whole equipment will work normally, so the maintenance of this piece is also very important.
Step 4, part of the wave soldering machine spray maintenance
We all know that if there is a problem with our spray part, the impact on the machine is very large, and it will cause the electrical induction of the equipment to malfunction, causing our normal operation and operation. So for the maintenance of the spray device, we must also be on the heart.
I believe that after reading these four steps, there will be some new understandings of the maintenance of wave soldering equipment, and I hope that I can always remember this aspect of maintenance in future operations.
❙ Wave Soldering Machine Video