Classification of Wave Soldering
From:    Author:Wave Soldering    Publish time:2020-08-04 15:48    Clicks:0
Classification of Wave Soldering
The application object of microcomputer design is mainly research institutes, schools and other research and development departments. The suitable production range is the trial production of new products with multiple varieties, small batches and miniaturization, without the need for fixed operators. The design features of this type of model are: the wave crest width is usually not more than 200mm, the volume of the solder tank is not more than 50KG, small and exquisite, small footprint, easy to handle, particularly simple to operate, friendly man-machine interface, and strong fault tolerance.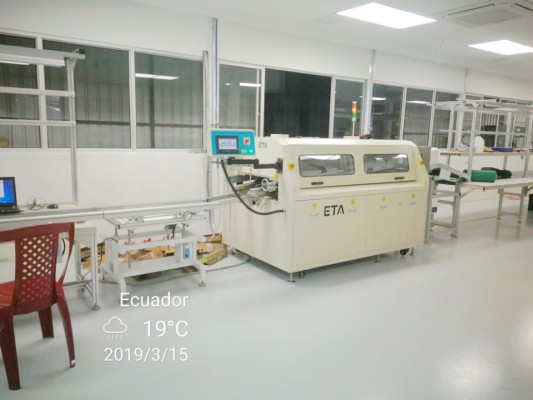 The application scope of this type of model is medium and small batch production units and scientific research departments. It generally adopts a linear transmission method with high efficiency. The wave crest width is usually less than 300mm, and the solder tank has a medium capacity (single wave model is usually less than 150k, dual wave model is less than 200kg), and the operating system is more complicated than microcomputers. The appearance is also larger than that of a microcomputer, which can be a desktop or floor-standing type. From the perspective of user usage, most scientific research departments are willing to choose such models to replace microcomputers in order to have a larger choice in the scope of application. Relatively speaking, the price of small wave soldering is relatively low, which can save costs for enterprises.
Medium wave soldering machine
The application objects of medium-sized machines are medium and large-scale production units and enterprises. Its design features are: the model is large, the overall layout is a cabinet structure, usually the wave crest width is above 300mm, the solder tank capacity is greater than 200kg (single wave machine) or 250kg (double wave machine), the largest can reach 00kqg, adopts frame type or claw type linear clamping method, with complete functions, fast clamping speed, high operation efficiency, many accessories for users to choose, and good matching with front and rear lines.
Large wave soldering machine
The mainframe is mainly designed for the needs of some advanced users. Its main design feature is to make full use of modern scientific and technological means and the latest achievements of wave soldering technology, pursuing perfect functions, advanced performance, intelligent control and modernization of the system. Such equipment is expensive, complex maintenance, good welding quality, high efficiency, and large capacity, so it is suitable for mass production.
❙ Wave Soldering Machine Video